On August 20th, Ecuadorian voters took to the polls to choose their next president, and participate in a crucial referendum over the fate of the Yasuni forests. The results were historic: nearly 60% of Ecuadorian voters voted to keep over 726 million barrels of oil underground in the Yasuní National Park region of the Amazon, known as the most biodiverse region on the planet. 
What does this vote mean? Oil drilling in Yasuni will be prohibited from now onwards, and Ecuador's state oil company will need to dismantle infrastructure – including 12 oil platforms and 225 wells – that it has set up over the last decades. The oil will have to stay in the soil. 
But why is this vote so significant? Here are 9 reasons why the Yasuni victory is so important: 
1. Frontline communities in Ecuador are showing how to effectively confront extractivism.
The Yes to Yasuni campaign was led by young Ecuadorian activists and Indigenous organizations, grassroots movements that have been at the forefront of historic climate and Indigenous rights victories over the last decade. Between 2018 and 2022, A'i Cofan communities in Sinangoe won historic lawsuits which blocked dozens of gold mining licenses issued by the Ecuadorian government, and guaranteed the rights of Indigenous peoples to free, prior and informed consent. In 2019, Waorani communities won another landmark legal victory, protecting half a million acres of their territory, and overturning the government's plan to drill oil on their lands. Now, Indigenous and youth movements secured a nationwide vote changing the course of history for climate politics. On the same day as the Yasuni referendum, residents in Quito – the national capital – also voted to block gold mining in the biodiverse highland area known as the Chocó Andino. Ecuador is a center of innovative and effective climate politics, unique in the region and world, sending a loud and clear message to governments and corporations: there are limits to resource extraction.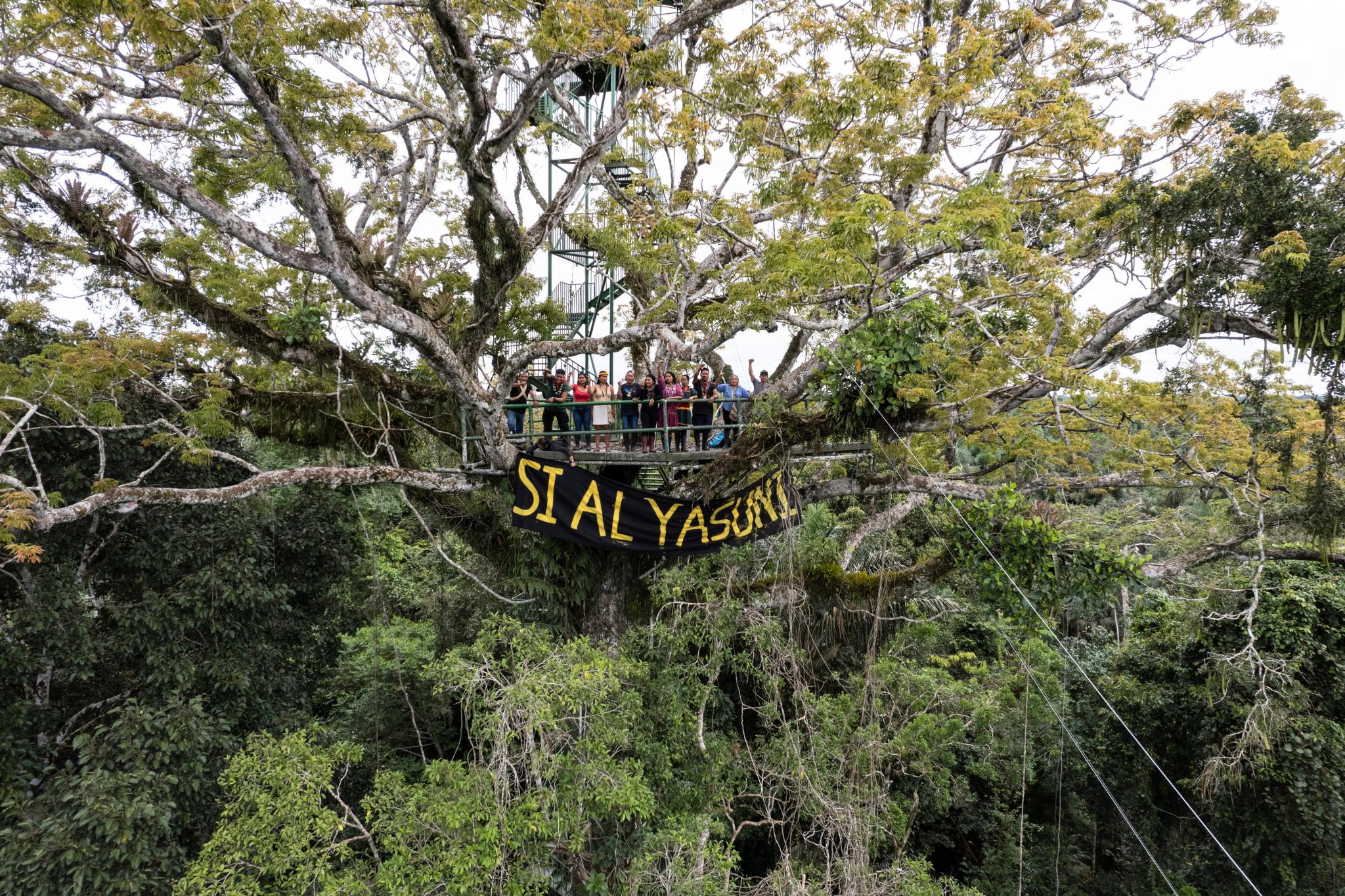 2. We now have a planetary precedent of climate democracy, where oil drilling decisions are made directly by the public.

Ecuador's people have set an example for the world, showing their support for a fossil-free future in a public vote. For the first time in history, voters participated in a national referendum to decide over the future of oil extraction in a territory. There have been other votes on oil drilling rights occuring at a regional level such as in Quebec, or at a city level such as in Los Angeles, but this is the first time a whole country votes to limit oil drilling. But what is now a planetary precedent, should become routine. We must continue to democratize climate politics, putting the decisions over our territories in the hands of the people.
3. Extractive industries are vulnerable and beatable.

In spite of the intensive greenwashing and propaganda put out by oil companies, the general public across the world is questioning our dependency on oil, and is no longer willing to trade sacred and biodiverse territories for the empty promise of trickle-down economics. The model of extractive capitalism, based on pollution and impoverishment, is unpopular and inadequate. People know that there is simply no future for coal, oil and gas on a liveable planet.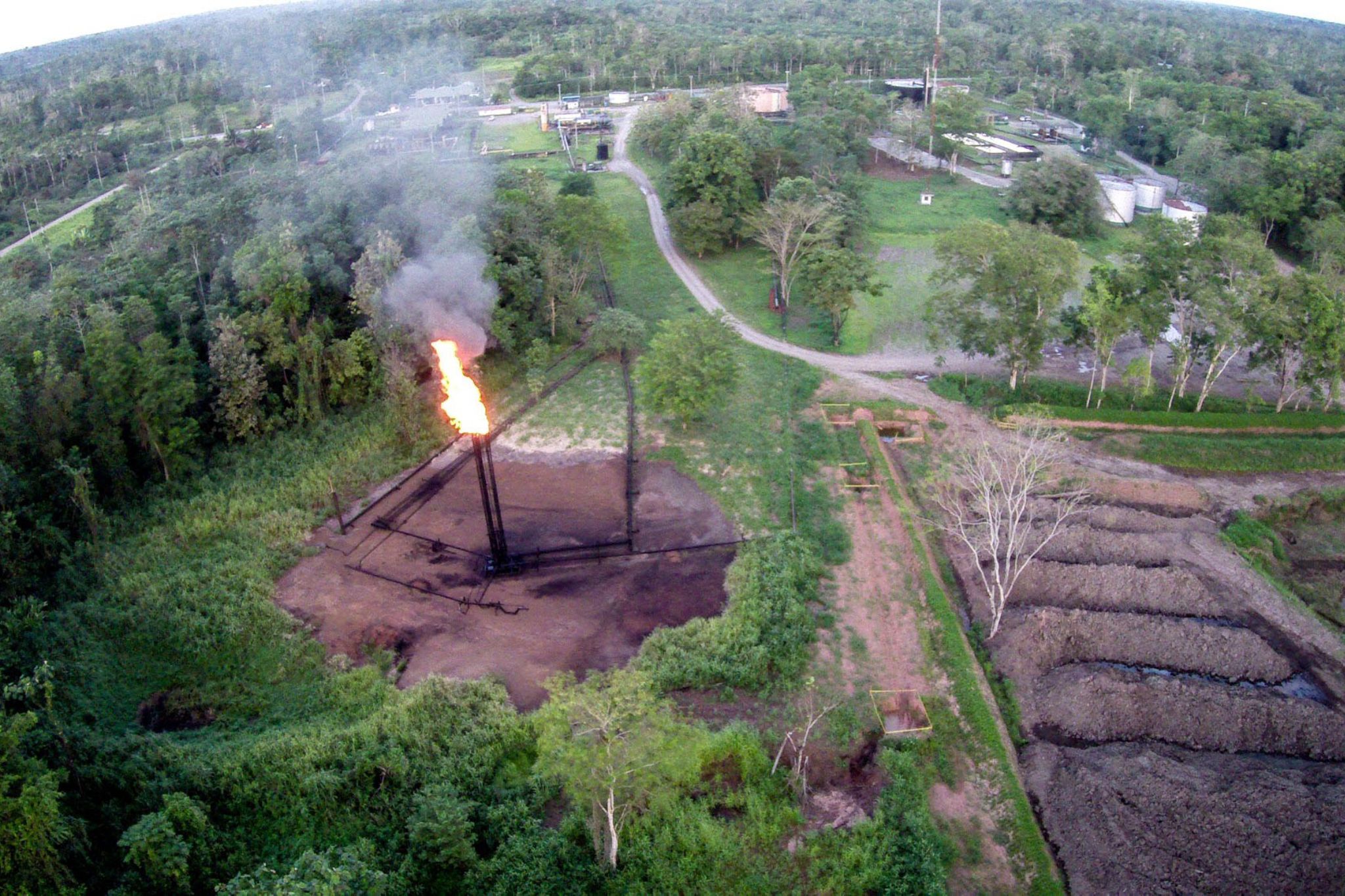 4. The vote protects the rights and lands of Indigenous peoples.
In particular the Waorani communities in Yasuni, and the Tagaere and Taromenane communities, living in voluntary isolation. As Alex Lucitante, A'i Cofán defender and Goldman Prize winner reflected in the wake of the victory, 'Indigenous peoples know the importance of sacred territories like Yasuni. Without our territories, our histories and cultures would have been extinguished.'

5. Protecting and valuing biodiversity can mobilize people to act.
Yasuni is arguably the area with the highest biodiversity per square meter on the planet, with astounding levels of variety across insect, plant, tree, bird and amphibian species. The decision over Yasuni permanently protects 10,000 hectares of forest, and advances the case for strengthening the rights of nature. As Gladyz Vargas, director of Ceibo Alliance and A'i Cofán leader, says, 'This is a historic victory that makes us believe that nature can be free from abuse, free from contamination, free from discrimination and the violations of its own rights, the rights of nature.'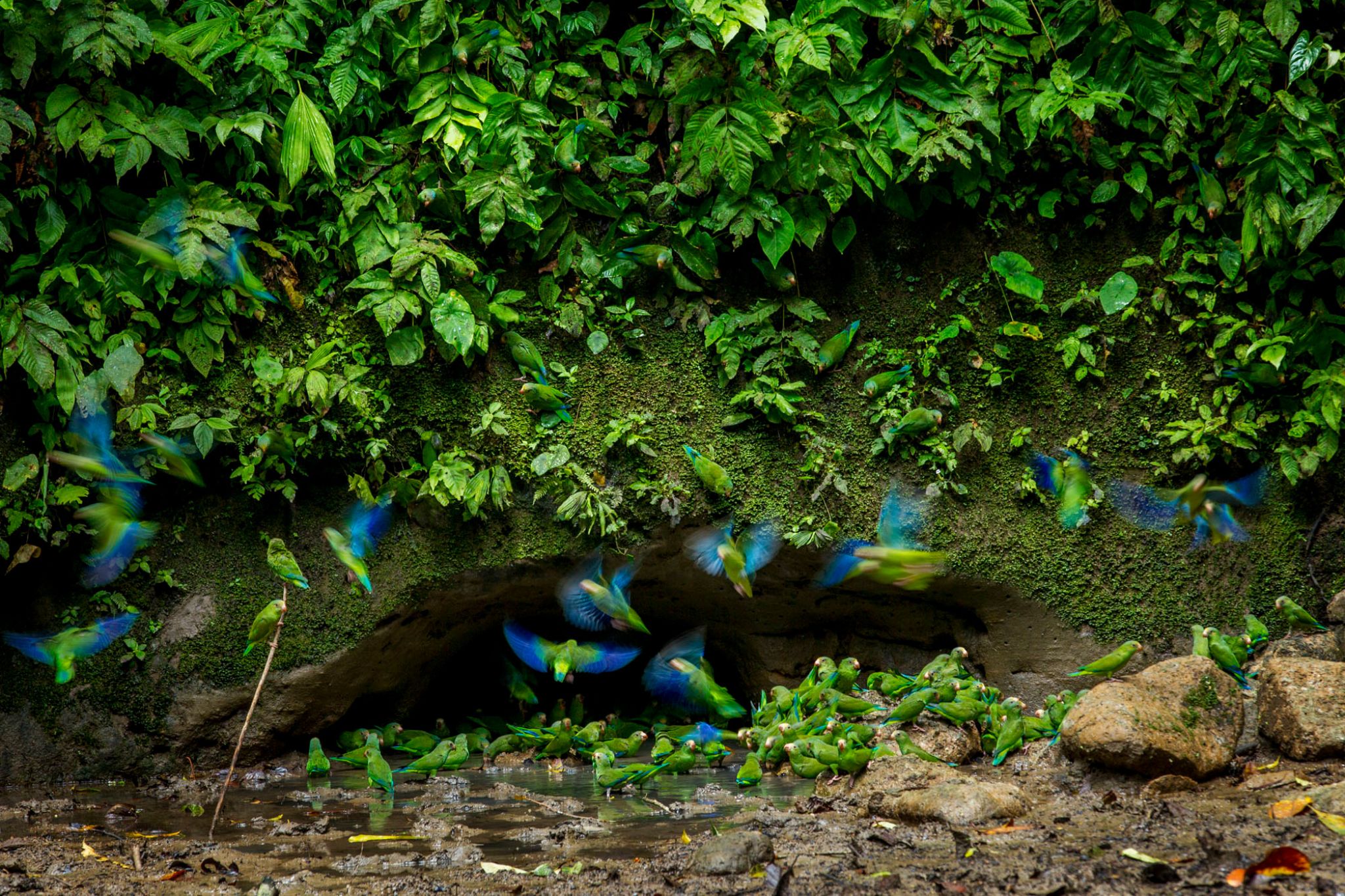 6. Only people power can keep oil in the soil.
By banning oil extraction in this area of the Amazon, this decision means 345 million tons of carbon will also be prevented from releasing into the atmosphere. At a time of record-breaking rising emissions and global temperatures, ending the systematic burning of fossil fuels worldwide is a global priority. Whether we look at the latest declarations of the United Nations Secretary-General, or to leading scientific studies, the evidence is clear: there is no hope of a safe climate future without urgently leaving the vast majority of global fossil fuels unexploited. The Yasuni decision shows that people power and democratic decision-making can help keep oil underground.
7. Yasuni brings a seed of hope for change to a region facing increasing violence and inequality.
Ecuador is facing a challenging panorama, riven by unprecedented political violence and strengthening organized crime. 8 politicians, including a presidential candidate, have been murdered in the last year. Simultaneously, the country's economic crisis is leading to major increases of inflation, inequality and poverty. The crisis affects Ecuador's marginalized and impoverished communities the most; data from the National Institute of Statistics and Censuses (INEC) shows that the Amazon has the highest rates of poverty  in Ecuador, with approximately 70% of people in the Ecuadorian Amazon living in multi-dimensional poverty. Indigenous peoples across Ecuador are four times more likely to live in extreme poverty than the general population, and the Amazon has the highest percentages of child malnutrition in the country. 82% of Indigenous people living in the area bordering Yasuni live in poverty. The Yasuni vote is a public call to protect life, and build an economy that works to fulfill people's human needs, in harmony with ecosystems.
8. Extractive Capitalism is Broken, Outdated and Unpopular.
Irrespective of the referendum, Ecuador's economy relies on oil revenues, and oil interests will continue to put pressure on other parts of the territory. Ecuador remains the country with the largest proportion of its Amazonian territory, over half, threatened by oil activities. Over 68% of the Ecuadorian Amazon is covered in government oil concessions, the majority of these overlapping with ancestral Indigenous lands. Research by agencies Mongabay, Latam, and la Barra Espaciadora found that of 643 indigenous communities located in the Ecuadorian Amazon, 480 have fossil fuel blocks within their territories. Of those 480 communities, 402 have the entirety of their territories completely overlapped by fossil fuel blocks. But the vote to protect Yasuni signals that a majority of Ecuadorian voters support protecting territories over the oil industry, and building other economic models that are less dependent on extractive activities. With Ecuador loaded with a crushing debt, in part linked to the country's over-dependence on extractivism, the urgency of transitioning away from oil towards an economy of life gains momentum.
9. We Win When We Come Together:
The oil industry is a global, interconnected industry. Much of the oil exploited in Yasuni for example is taken to the United States; in California, one out of every nine tanks of gasoline is filled with oil from the Amazon. Resistance to global corporations and the powers of greed, is only possible through global movements, countering these powers and protecting their territories of life. Our collective power to confront the oil industry is in unity;the frontlines lead, but are supported by national and global solidarity. To win this historic victory, Indigenous and non-Indigenous activists and organizations joined forces, coordinating mobilizations, assemblies and eye-catching digital campaigns. Over the last month, the campaign gathered international support and recognition from international celebrities such as Leonardo DiCaprio, Mark Ruffalo, Greta Thunberg, Jada Pinkett Smith, Jason Momoa, Gael Garcia Bernal, among others. This vote shows that when we come together, and are creative in our collaborations, we win. When we build bridges across divisions, we are unbreakable.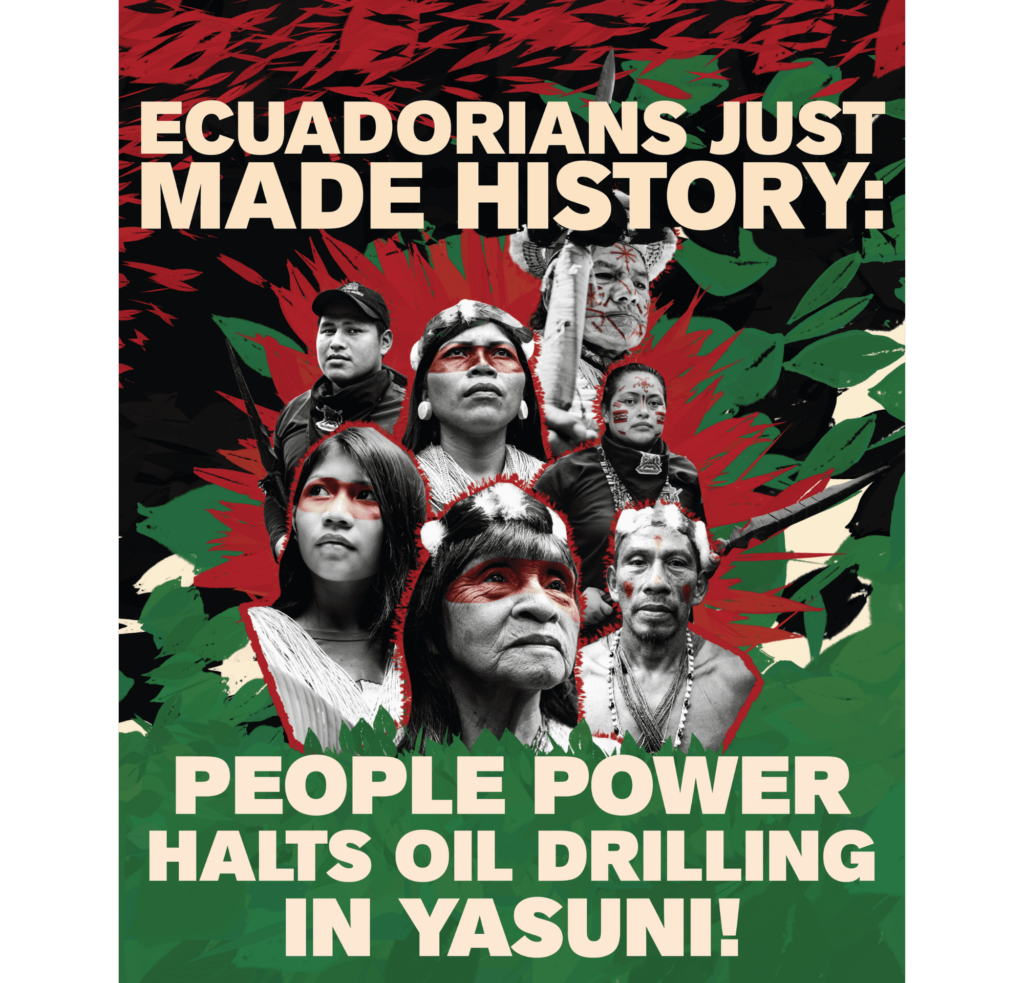 What's next? The battle for Yasuni doesn't stop here.
Now we need to make sure that Petroecuador, Ecuador's state oil company, actually leaves the territory. Indigenous peoples will need to fortify land defense systems across the Amazon, especially as the government and extractive companies pivot to try exploit other territories. And we will continue to fight to demand land back for all Indigenous peoples in the Amazon, building a world where communities can control their lands and thrive on them. This is just the beginning. As Ene Nenquimo, vice-president of the Waorani Organization of Pastaza (NAWE) said, 'as Indigenous peoples, our struggle is millennial. We just won this victory and we will win many more. We are showing the world that Indigenous peoples and the Ecuadorian people are united. Our resistance continues and we will never be silenced.' 
Globally, we need to keep building climate justice and democracy: standing up for Indigenous territories, protecting sacred lands, putting limits on an economic model of greed and devouring. The Yasuni vote fills us with hope to fight, knowing we are capable of enormous victories against the odds. Onwards!