Last week, for the third time since 2019, tensions between Ecuador's government and Indigenous communities reached a full-blown crisis. Led by the country's Indigenous umbrella organization, CONAIE, Ecuadorians from all walks of life have taken to the streets to peacefully demand systemic change in a world wracked by climate crisis, pandemic, and deepening socio-economic inequalities. Their efforts have been met with violence and repression by the government, tear gassing protestors, illegally detaining activists, wounding dozens, and in at least two tragic instances, brutally assassinating two protestors.

Last July, the newly elected rightwing president, Guillermo Lasso, declared on national television his intention to pursue neoliberal economic reforms and extractivist policies, including the expansion of oil production throughout the rainforests in the northeast of the country. This would accelerate the ongoing poisoning and pillaging of indigenous land that began a half century ago, and bring further irreversible harm to 14 Indigenous nationalities living on more than 23 million acres of protected ancestral territories. These government efforts come on the back of a brutal global health pandemic that disproportionately impacted the country's indigenous population, and exacerbated extreme poverty in many regions.  
In response, CONAIE's president, Leonidas Iza, sent President Lasso a letter reminding him of his obligation to protect the human rights of all Ecuadoreans—including economic policies that did not disproportionately impact marginalized and exploited peoples. The CONAIE communiqué of July 2021 stated that all dialogue on indigenous matters must be public, and noted that they retained the right to resist policies that threaten their lives and livelihoods. CONAIE continued its efforts to engage the Lasso government throughout the year. But the government continued to pursue unpopular social,  economic and environmental policies.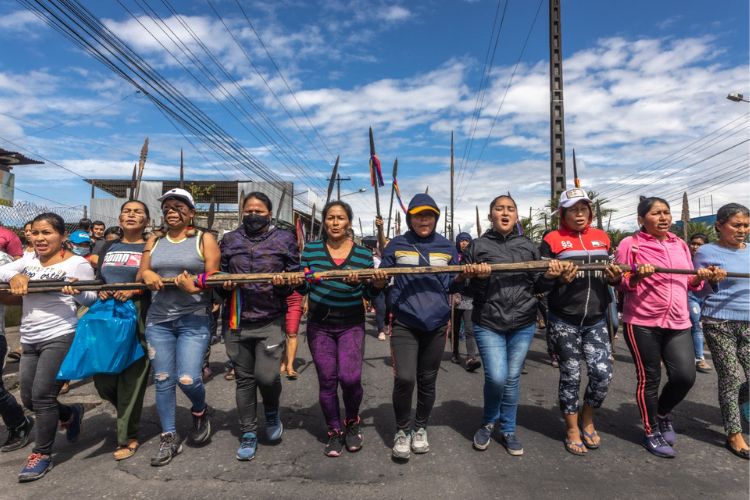 Following these repeated efforts to engage in dialogue, CONAIE announced it would initiate a national strike on June 13th.
Nemonte Nenquimo, a Waorani leader and winner of the 2020 Goldman Environmental Prize, explained the need to draw global attention to the government's unlawful and environmentally reckless extractivism.
"We rise up because the world must listen," she said. "We are defending our lands, our cultures, and our dignity against a system that wants us to disappear. We don't protest in vain." 
The response to the first day of protests was profound. As highway blockades stopped traffic in 16 of the country's 24 provinces, allied groups and social movements across Ecuador joined the protests in defense of the rights of Ecuador's most vulnerable and undervalued citizens. 
Rankled by the show of strength by a growing, diverse, and unified Indigenous movement—one that is increasingly representative of the Ecuadorian people—the government lashed out. In the early hours of June 14, armed federal agents illegally detained  CONAIE president Leonidas Iza in San Juan de Pastocalle province of Cotopaxi, seized the keys to his vehicle, and took him to an undisclosed location. For 24 hours he was prevented from communicating with his family or legal representatives  and forced to sign a police report without due process. 
CONAIE anticipated the violation of Iza's human and Constitutional rights as early as December 2021. "Guillermo Lasso, you are responsible for any attempt against the life and integrity of Leonidas Iza," read a Twitter statement posted by the federation. "You feel fear, cornered in your arrogance, your authoritarianism and your inability to solve the country's problems." 
As word of the police action spread, so did support for the strike. On the night of June 14, CONAIE's legal team filed a writ of Habeas Corpus, requiring the detained person to be released unless legal grounds for detention can be shown, on behalf of Iza. At a hearing that finally began late on the night of June 14, the judge accepted the prosecutor's defense and declared the arrest legal. A defiant Iza was released the following morning.  He announced in a public address from Cotopaxi that the national strike would continue peacefully.  
"Let us defend our legitimate protest agenda," he said in a statement. "The government imposes repression, let us not fall into the way of violence, vandalism, or chaos."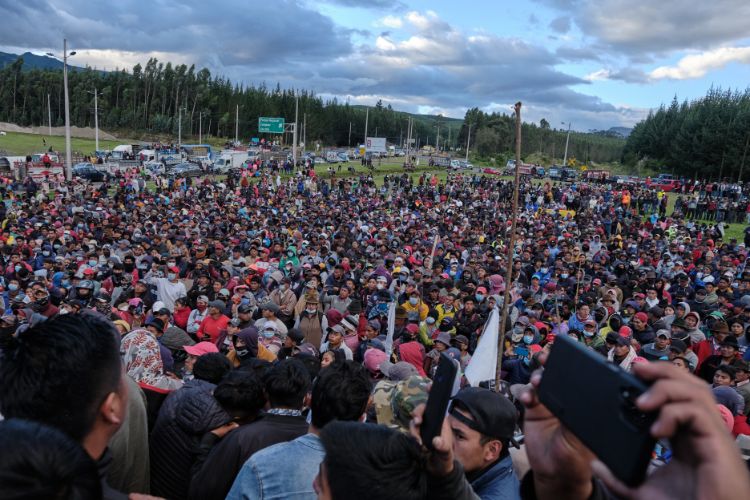 Throughout the day, as blockades continued to impact traffic around major cities and airports, participation in the national strike grew significantly. More human rights defenders added their voice to CONAIE's, expressing grave concern about arbitrary detention and violent repression of social movements as well as demanding that President Lasso reveal the whereabouts of others detained for lawful political activism. That evening, thousands of Indigenous protestors and their allies convened in the streets of Quito and in towns and villages across the nation. 
The ongoing strike carries the flame of protests that drew worldwide attention in October of 2019
As during those mobilizations, the Indigenous movement is calling for unity and cohesion and urging its allies to stand with them for the duration. CONAIE has said the actions will continue until the government agrees to adopt social and environmental policies needed to protect the lives and livelihoods of indigenous communities. They include: 
A total ban on mining and oil exploitation activities in Indigenous territories and respect for the collective rights of Indigenous peoples and nationalities as enshrined in the Ecuadorian Constitution 
Price controls on essential items like food and fuel
Economic development and employment programs
Improved access to healthcare and education and an end to the privatization of public companies and infrastructure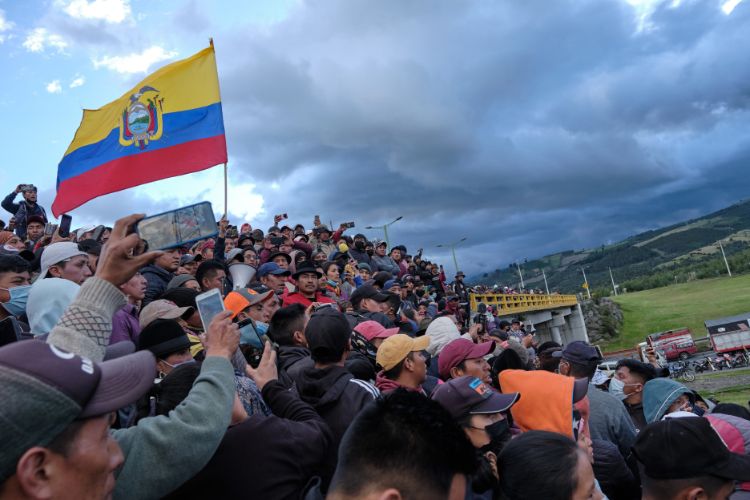 The government has responded to these demands with intensifying slander and criminalization. As early as December, months before the strike was announced, the President Lasso promised, "We are going to confront Leonidas Iza with all the power of the state…so that his bones end up in jail." True to his words, he has used state and private media to present the public with a false picture of protestors as vandals and even terrorists. The government is increasing the use of illegitimate force, including riot weaponry and tear gas.
The latest reports indicate that 94 protestors have been arrested and 92 seriously injured. Three demonstrators have lost their lives at the hands of disproportionate police violence, including a young Kichwa man, according to observers affiliated with the Alliance for Human Rights.
CONAIE is currently calling in good faith for public and transparent discussions with the government to resolve the crisis. These have been met with resistance at every turn. Instead of public meetings with CONAIE leaders, the government has instead supported  for acommission established without Indigenous consent or meaningful participation,  undermining the possibility of serious negotiations. CONAIE remains adamant that negotiations must result from a participatory process that accords with Indigenous community based governance systems of CONAIE and be based on mutually agreed upon resolutions. 
The Indigenous movement has been clear that it possesses the political will and ability to continue pressing for direct negotiations with the government on its terms, despite the government's continued efforts to violently and illegitimately repress ongoing protests.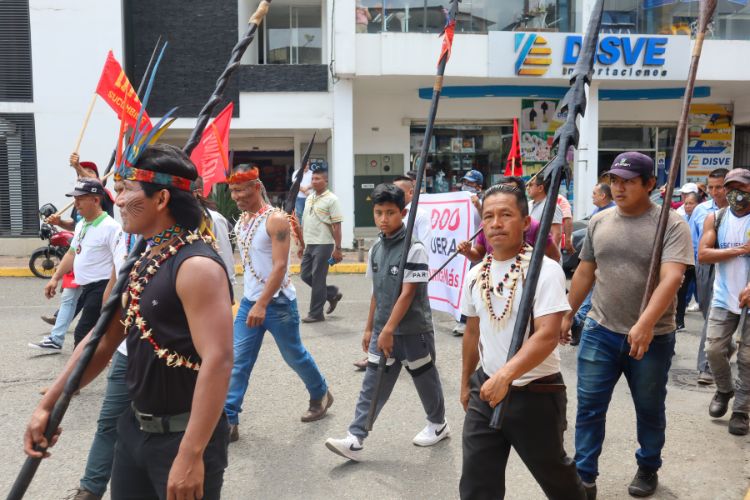 Amazon Frontlines, together with our allies around the world, stands with CONAIE and indigenous communities catalyzed by decades of exploitation and abuse. At stake is not only Ecuador's commitment to democracy, the rights of its citizens, and its obligations under international conventions to which it is a signatory. The future of the rainforests and the people who have proven over the centuries to be their natural and most effective stewards is at stake.