Just days after their historic court victory in Ecuador blocking an oil auction and protecting over half a million acres of their ancestral territory, a delegation of Waorani women travelled from the Amazon to Geneva, Switzerland to speak before the United Nations last week. In the following text, we share Waorani leader Nemonte Nenquimo's powerful speech before the Expert Mechanism on the Rights of Indigenous Peoples at the headquarters of the United Nations, denouncing the Ecuadorian government's systematic violation of indigenous peoples' rights to free, prior and informed consent and self-determination. 
"Good morning, Madam President and those present, my name is Nemonte Nenquimo, I traveled here from the Ecuadorian Amazon. Omanca, the woman beside me, and I are Waorani women. We are an indigenous people which came into contact with the outside world just fifty years ago. This contact began with the Evangelical Church, which then helped the oil companies enter our lands. Omanca and I have come from very far. I will speak to you today because Omanca, a Pikenani (traditional leader) from my territory, only speaks our language Waoterero.
In Ecuador, there is a constitution that recognizes our rights to live freely and according to our culture, to govern our territories, to protect nature and to have the right to prior consultation. These are the same rights that you at the United Nations recognize for us in your Declaration on the Rights of Indigenous Peoples. But in practice, the Ecuadorian government does not respect our rights. That's why we have come here, because our lives and our forest are at risk.
Our case is recent and very complex, because as I said, we are recently contacted. Our relationship with the rainforest is special. Most of my people still live in the forest. In the forest, we travel by foot or canoe, we talk in our language, we live from hunting and fishing, we heal through plants and we give birth to our children in our homes.
We don't have a good relationship with the outside world. If the oil companies enter our territory, our lives will change and they will condemn my people to disappearing. We have seen the territories of other indigenous peoples, our brothers and sisters. We've seen how customs change and how life changes. We've seen how life begins to decay after the oil company enters, how hunting and fishing grounds are contaminated, and how the forest is felled. We do not want that. And many other indigenous peoples in Ecuador don't want that, but the government is continually violating our rights.
"Our territory is not for sale. Our territory is part of our life."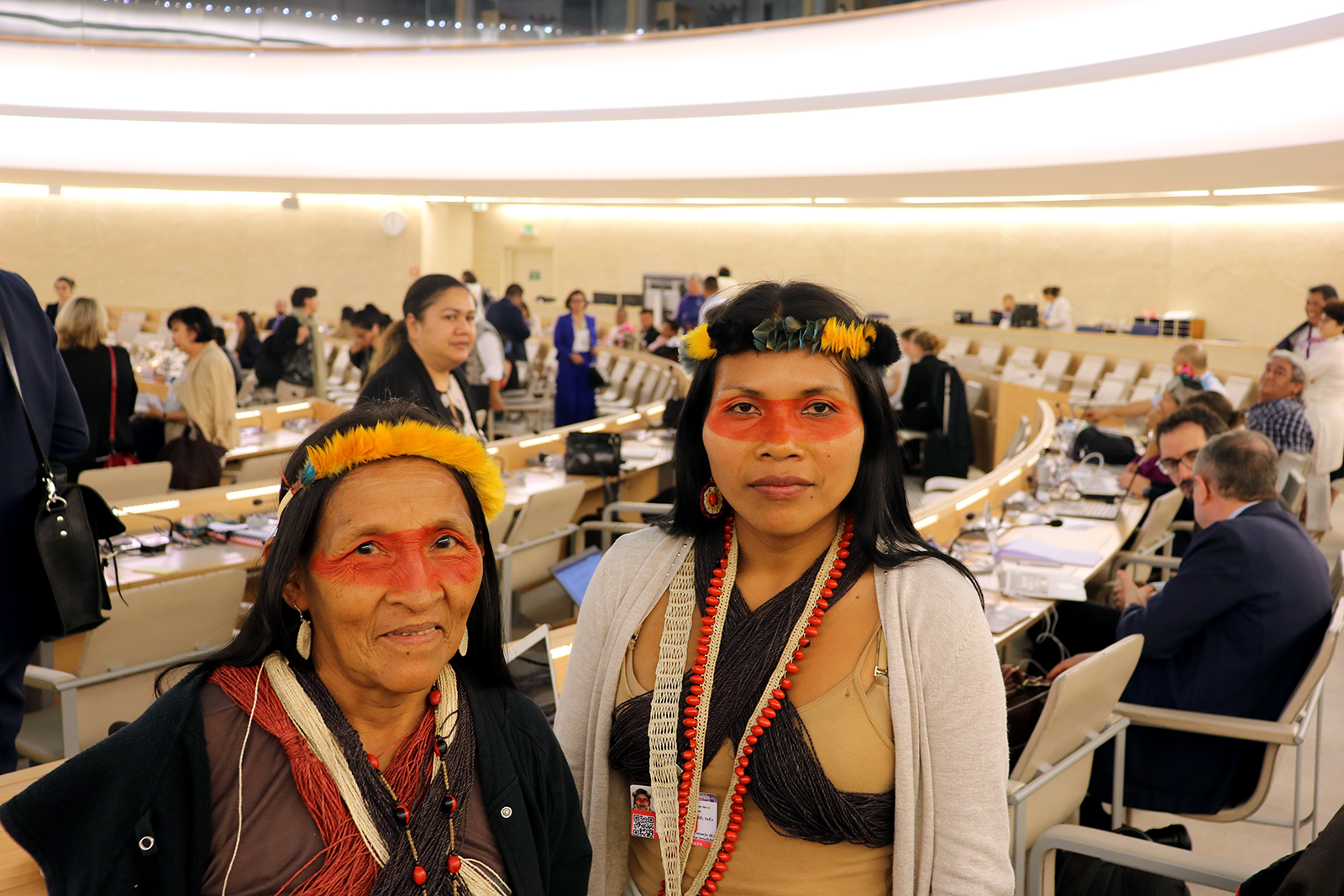 On July 11th 2019, a Court in Ecuador ruled in our favor. After months of court hearings and many long trips from our communities, walking and traveling by canoe to the courthouse in the city, four Pikenani warrior leaders and I, as president of our people, won the trial and appeal. The court recognized that the government violated our rights to prior consultation and self-determination in order to sell our territory to oil companies. The judges said that we had to be consulted first, but not with the tricks and deceit. The government doesn't know how to consult us properly, especially as a recently contacted people. And they don't want to consult us. For the government, our right to prior consultation is just an obstacle to their oil and mining plans in our homelands. The government is willing to kill our lands and our way of life for this.
I ask that you share my words with the Human Rights Commission and that you request follow-up and an investigation into what happened with the Waorani and other nations of Ecuador. It would be very helpful for our way of life and that of other peoples in the region. The United Nations has already told Ecuador many times to respect our rights, but the government has not complied, and now you have to tell them with more strength. The government isn't even obeying the judges of Ecuador, despite the fact that they have made four judgments against the government for prior consultation violations over the past year. Even the Constitutional Court has ruled on how to protect our constitutional rights.
We ask for your support, because what happens in our territory is our decision, and we have decided that our territory is not for sale. Our territory is part of our life. We will die if the oil companies enter our lands. And we will fight until the end, not just here in front of you. That is my last word, with all my heart and soul."
– Nemonte Nenquimo, July 16th 2019, Geneva, Switzerland