It's time to beat the oil industry.
It's time to protect Yasuni
The world's most biodiverse rainforest is under threat
Will you help protect it?
We have a once-in-a-lifetime opportunity to protect the world's most biodiverse forest, deliver a blow to big Oil, and be part of a huge climate turning point.
In just days, Ecuadorian voters will participate in a historic vote that could kick Big Oil out of Yasuni, the most biodiverse forest on the planet. On August 20th Ecuadorians can vote' YES: yes to keeping oil in the ground, yes to protecting forests, yes to Indigenous rights.
We need to raise international awareness that this watershed moment is happening and show the Ecuadorian people we've got their back! Watch a video from the frontlines & share across your networks.
Together, we can protect the Amazon, Indigenous rights, and the planet we share.
Watch and share this video. Why?
Because the Amazon is crucial to our shared planet.
Because we simply cannot tackle the climate crisis or the extinction crisis if oil drilling is allowed across Yasuni.
Because Indigenous people are on the frontlines, putting their body on the line to protect the Amazon and our climate.
We need to have their backs. We need to uplift their voices.
Because of them, we have the chance to win a major victory!
Yasuni is a global hotspot for biodiversity and for oil. For decades, corporation have extracted oil from the Amazon, leaving an ongoing legacy of destruction and pollution for local communities. Now they want to expand their business in Yasuni, extracting even the last drops of oil.


Yasuni is the ancestral territory of the Waorani people, and the house of the Tagaeri and Taromenane communities, the last two Indigenous peoples living in voluntary isolation in Ecuador.

 

Yasuni is also the most biodiverse part of the Amazon, an area indispensable for the stability of our planet's climate. There are more native tree species in one hectare of forest in Yasuni than across the whole of the United States and Canada. 


The Amazon itself as a forest region is indispensable to the stability of our living planet: home to 10% of the species on the planet, this forest region produces 20% of our global oxygen, and absorbs and stores more carbon pollution than any other place on Earth.

This moment is historic. For the first time in history, every citizen of an oil-producing country will get to vote YES or NO to kicking Big Oil out of a territory.

A "Yes" vote ends oil exploration in Yasuni and sends oil companies packing.

A "No" vote gives the oil industry permission to exploit 726 million remaining barrels of oil and unleash more than 345 million tons of carbon.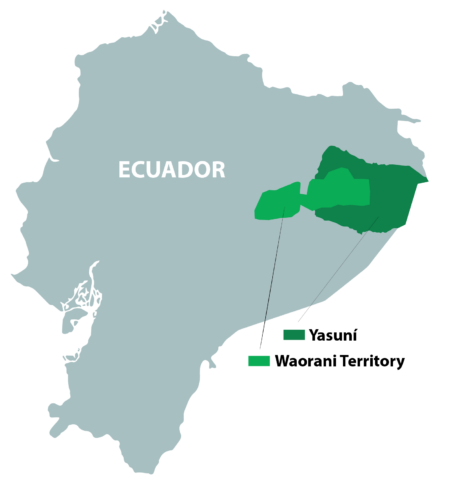 Read this blog and learn more about Yasuni, the most biodiverse place on Earth.
Uplift the voices of Indigenous youth and leaders from the Upper Amazon by sharing their message on your channels. Check out the social kit here! 
Help this vote go viral by posting on your social media using the hashtags #SíAlYasuní #YesToYasuni
Rally support by asking your friends and followers to get involved and make this vote to protect the Amazon rainforest go viral!


It's time to end fossil fuel extraction in the Amazon once and for all! 
Say Yes to Life.  Not to Death.
#YesToYasuní